View Larger Map
Visiting the Isles of Shoals makes a wonderful day trip out of Portsmouth harbor. Catch a ferry with the Isles of Shoals Steamship Company at 315 Market Street in downtown Portsmouth for the 9 mile ride out the Islands. The Steamship Company offers various excursions that include guided Portsmouth Harbor tours or stops for exploring the islands.

View Larger Map
The cruise out to the islands is a wonderful way to spend a few hours. The narrated ride passes through Portsmouth Harbor, which is beautiful and features history and sites galore. To port (on the Maine side of the Harbor – left on the way out to the islands), you will pass the Portsmouth Naval Shipyard and the abandoned Naval prison. Watch for submarine conning towers that may be visible as you pass by.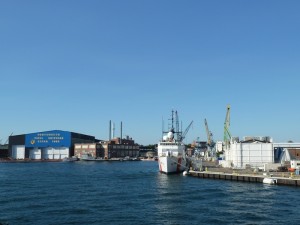 To starboard you will pass Fort Constitution at the mouth of the harbor. Fort Constitution is built on the site of Fort William and Mary, which was the site of the true first organized action by the Colonials against the British in 1774 – before Lexington and Concord! On December 13, 1774, Paul Revere (remember him from the Midnight Ride) rode 60 miles from Boston to Portsmouth and informed the The Portsmouth Committees of Safety and Correspondence that a British expedition that was in transit by sea to seize control of the powder and armaments stored at the fort. On the following day, a band of 400 New Hampshire militiamen assaulted the fort, which was manned by just 6 British soldiers. The British managed to fire three cannons at the Colonials, but were quickly overwhelmed. A large amount of gunpowder was captured along with some muskets and cannon. There were no serious injuries, but this was truly the first battle of the American Revolutionary War, a full four months before Concord and Lexington.

The ferry will stop at
Star Island
Star Island to drop off and pick up passengers. At the island, there is a retreat hotel run by the Unitarian Church. They offer day services including meals and it is possible to spend the night between mid-June and mid-September. The organization runs various retreats, workshops and conferences that run from photography to international affairs to family conferences. The facility is beautiful and a real throwback to the 19th century – Nathanial Hawthorne stayed here. Accommodations are pretty basic, but the location is fantastic. A beautiful and quite place to spend a day or a few nights.