View Freedom Trail Boston – Ultimate Tour Map & Guide in a larger map
For those visiting the Freedom Trail and wishing the immersive experience, there are a number of historic restaurants directly on or close to the Freedom Trail.
The Google Map above displays these restaurants along with the sixteen official Freedom Trail stops and many other interesting sites on or near the Freedom Trail.  It is also available as a free Android app (iPhone/iPad versions to be available soon).
All these restaurants, sites and much is discussed in the eBook "Freedom Trail Boston – Ultimate Tour & History Guide – Tip, Secrets, & Tricks".
BTW, none of these restaurants should be considered "fine dining," with the possible exception of the Chart House. But, all are fun and serve good food.  And, they will absolutely enhance your Freedom Trail experience.  Most have excellent lunch specials.  Enjoy!
1654 – Green Dragon Tavern
The original Green Dragon Tavern was a around the corner at 84 Union Street. It was founded in 1654 and an active pub by 1714. The Green Dragon was a regular haunt for the Sons of Liberty and the site of the Boston Tea Party planning meetings.  It was torn down in 1828.
The current Green Dragon incarnation is fun and has decent bar food.  It is located on Marshall Street, one of the oldest most authentically historic in Boston.  Right next door is the Ebenezer Hancock House – which built in 1767 by John Hancock's uncle, inherited by John and then given to his brother, Ebenezer.  Ebenezer became the deputy paymaster to the Continental Army.
Good lunch specials, including lobster.  Everyone needs at least one lobster when visiting Boston!
617-237-2114
1742 (perhaps 1713) – Union Oyster House
The Union Oyster House started serving in 1826. It is the oldest continuously operating restaurant in the US.  The building, which dates from 1742 (although other references place it as early as 1713), started its life as a dress shop.  At that time, the harbor actually came up to the dress shop's back door.  Since then, all the land you see has been filled in.
The legendary Oyster Bar at the front of the restaurant is beautiful and historic.  Regular customer Daniel Webster sat daily at this bar and drank a tall tumbler of brandy and water with each half-dozen oysters – usually eating at least six plates.
617-227-2750
1760 – Chart House
The Chart House was originally the Gardiner House, built on Long Wharf around 1760. Later, it was John Hancock's counting house.  It is the oldest building still in use on Long Wharf.
For the pleasant weather, it has outside seating with a great view of the harbor and downtown Boston. It is the most elegant restaurant in this collection.
617-227-1576
1780 – Warren Tavern
Built in 1780, the Warren Tavern was reportedly the first building raised after the British burned Charlestown during the Battle of Bunker Hill in 1775. It is named for Doctor and General Joseph Warren, the famous Patriot who was killed at Bunker Hill. It was visited by George Washington, Paul Revere, and Benjamin Franklin.
Good pub food and great slice of history.
617-241-8142
1827 – Durgin Park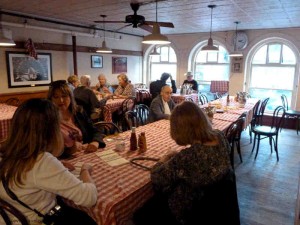 This iconic restaurant, housed in an old warehouse, has been around since 1827, although a restaurant has operated at this spot since 1742. Famous for its old Yankee recipes, it is a real flash from the past and one of the oldest places you can dine in Boston. Upstairs diners are seated communally at long tables with other patrons. For the pleasant weather, there is also outside seating overlooking Quincy Market.
It is a lot of fun and one of the few places you can get Indian Pudding.  The roast beef overflows the plate.  One of my favorites!
617-227-2038
1875 – Café Marliave
The oldest Italian restaurant in Boston, the Marliave dates from 1875. It has pleasant outside seating for the summer months.
It located right above of the Province House Steps (1679–1864). The Province House was the official Royal Governor's residence during the Revolutionary period.
617-422-0004
For more information on the Province House
---
ON SALE - REGULAR $5.99 - FREE COMPANION APP - FREE STREAMING NARRATION
Updated for 2014 - Many New Features!
Now includes the Boston Harbor Islands - a great day trip for all ages!
FREE COMPANION APP for iPhone and Android w/MULTILINGUAL Option -
Spanish, French, German, Italian, Portuguese, Chinese, & Japanese!
FREE STREAMING NARRATION w/web access - a tour guide in your pocket!
Google Auto-Translate to Spanish, French, Italian, Chinese and Others!
Includes information on Harvard Sq., Lexington-Concord, & Adams NHP
Enhanced History sections includes Native Americans & early explorers
With Free Web-Updates with Happenings, Budget Tips, Maps & more
"Freedom Trail Boston has just the right mix of content to make for a terrific
tour..."
David J. Asher
"It's an easy, yet engaging read and truly helps make the walk fun for all
ages..."
Al Jansen

"Saved me with visitors from the West Coast..."
  Steve S.
Whether you are a first time visitoror you've lived in Boston for years, the
Freedom Trail Boston Ultimate Tour & History Guide
provides
everything to make your visit
to The Freedom Trail and Historic Boston
a smashing success
.
Read all important chapters in Spanish, French, German, Italian, Japanese, Mandarin, Korean and other languages via exclusive links to
web-based auto-translation features
.
Use it to plan, brush up on background information, or as a
personal, interactive, multi-lingual tour guide
when walking The Freedom Trail.
It covers all 16 "official" Freedom Trail Stops as well as
over 50 other "unofficial" landmarks
. Also includes custom side-trips to Harvard Sq., Lexington, Concord & Adams National Historical Park.
The Guide features
over 60 photos and illustrations
, as well as access to interactive maps, free smartphone apps, video, and other information. There are detailed descriptions of the important related events including the
Boston Massacre, the Boston Tea Party, Paul Revere's Ride, the Battles of Lexington and Concord, and the Battle of Bunker Hill.
There are tips for the
best free tours, discounted admissions
, where to eat, transportation and parking advice, and even where to find the
best lobster specials
. The Freedom Trail can be a great bargain, the Guide shows you how.
Whether traveling alone or with small children, learn how to make the most of your visit. Find out what to see if you only have an hour. Or, plan the best 1/2, full or even two day visit.
Don't miss out
on what would be most interesting for you.
The impact Boston had on the events and thinking that led to the American Revolution was extraordinary. The Guide gives you
everything you need to bring The Freedom Trail to life
.