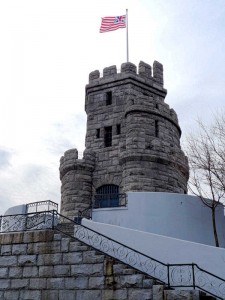 Select your language to auto-translate:

When on the night of April 18th the British left Boston on their fateful expedition to capture Patriot munitions in Concord and the "shot heard round the world," they marched by a hill just outside of Union Square, in what today is the city of Somerville. In 1775, Somerville was part of Charlestown and was located "just beyond the neck" that separated the Charlestown peninsula from the mainland. The hill is called Prospect Hill, and it was to play a key role in America's fight for freedom from Great Britain.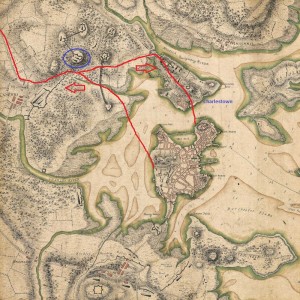 In the British retreat back to Boston on April 19th, they diverted to go via Charlestown and they again passed by Prospect Hill, but this time in hurried flight and under constant fire from American militia that had gathered from over 30 miles away. (Prospect Hill was one of the last landmarks to pass before the British could reach sanctuary in Charlestown.) There was a major skirmish at the foot of the hill, leading to death on both sides. At the end of the day, American troops were posted on the hill to observe the British as they ferried troops across the harbor between Charlestown and Boston.
Two months later, immediately after the Battle of Bunker Hill, Prospect Hill was the sight of major American fortification and became the central position of the Continental Army's chain of emplacements north of Boston. Its height and commanding view of Boston and the harbor had tremendous strategic value and the fortress became known as the "Citadel".
On July 1st, 1776, George Washington had the new "Grand Union Flag," the first official flag that represented the united colonies, raised at the top of the Hill. It combined the familiar British Union Flag with 13 red and white stripes. (It was not until 1777 that the more familiar flag with stripes and thirteen stars was adopted.) During the winter of 1777-8, after his defeat at Saratoga, General Burgoyne and 2,300 of his troops were housed as prisoners of war in barracks on the hill.
In 1903, a castle shaped monument was erected at the sight of the primary American fortifications. Today, the view of Boston and the surrounding towns is still impressive.

View Prospect Hill – Site of Fighting and Patriot Fortifications in a larger map