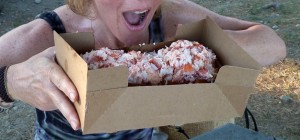 There are few things as wonderful as a lobster sandwich, and this is one of the best. Full of meat, juicy, succulent, decadent, delicious – it is what summer in New England is all about. Absolutely worth the drive, but if your are in the Portsmouth area during a beautiful day, not to be missed. Make sure to ask for it without lettuce to get the maximum heaven.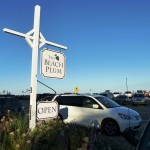 The Beach Plum is a ice cream stand, and with commercial ice cream at that. But, their lobster and crab sandwiches make the Beach Plum a culinary destination par excellence. There is a seating area with picnic tables and umbrellas at the side of the stand, but the best place to indulge in your feast is on the sea wall across the street overlooking the ocean.
The foot long (pictured) will set you back about $28 (the regular is $17 as of 2010), but is easily enough to share.  A rock crab roll is only $11. The ice cream may not be homemade, but what a great way to end your feast!
A fantastic end to a fantastic day.